As it says in the title. Some of these are more subjective than others, but a few cannot be argued with at all.
Best Double Arabian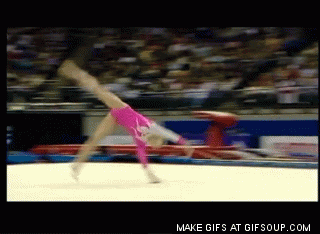 Anna Myzdrikova, Russia, 2009 Worlds EF
She stumbled on her third pass and handed her title away, but her other 3 passes were fantastic- one of which is a triple twist tuck back, perfectly done. THIS is amazing, legs glued together and knees at the same height (almost..she does correct it) is incredibly rare. Not to mention how light it is and how she plants the landing beautifully. Stunning. Others with great double arabians are
Inna Sckarupa, Alicia Sacramone
and
Liubov Sheremeta.
Best Double Front
Ivana Hong, USA, 2008 Visa Nationals
This was the easiest, because nobody's compares to this really.
Mariya Livchikova
came close, but this skill is famous for cowboying and basically everyone else is an offender. Glorious- knees together, feet pointed, light landing.
Best Double Piked Arabian (Dos Santos I)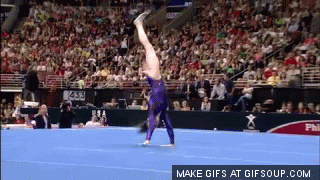 Chellsie Memmel, USA, 2008 Olympic Trials
This was really hard. Although it's one of the most difficult tumbles, there are still quite a few to choose from. The majority are quite crooked in the air. Chellsie's is also, but she corrects it and as well as being one of the straightest she also has great form in the air and sticks the landing. Most take a hop forward, or if they do stick it, it's ugly. Also, quite a lot land it dangerously low. Others in consideration were
Sarah Finnegan
and
Alicia Sacramone
.
Best Triple Full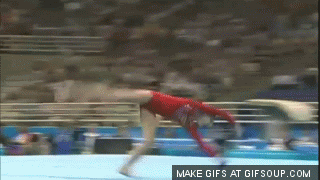 Cheng Fei, CHN, 2004 Olympics TF
You would think it would be easy to pinpoint people who have a perfect one, and find examples on youtube. It isn't. So many beautifu floor workers with clean tumbling- Pavlova, Komova, Yao, Ukrainians en masse and many others all failed me. You think it's fine until you see it in better quality or on the replay. But Cheng throws out a perfect one, with zero crossing of the ankles. So high, clean and tidy with super perfect form.The only other that came close was
Mattie Larson
.
Best Double Double (Silivas)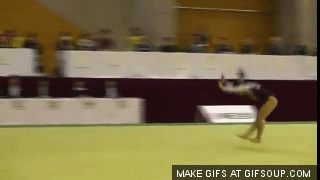 Mai Murakami, JPN, 2010 All Japan Gymnastics Championships
It can be tough to pick out the 'best' because not many have actually done it badly or had a rough landing. (Excusing the 80's originators on their unsuitable floor) It seems to be quite easy to keep form on, but some have better, cleaner tuck positions than others. Mai brings a lightness and grace to such a difficult power move. And what a landing! Others considered for this were
Cheng Fei, Larisa Iordache
and
Jordyn Wieber.
Best Double Layout
Lavinia Milosovici, ROM, 1994 Worlds EF
This is probably the most subjective of all. Countless times I went back and watched noted elegant tumblers with lovely floaty DLO's only to see leg seperations, a lot of piked positions in the second layout, bent knees, sickling of feet, totally flexed feet...urghh. To me, this is about as textbook as it gets. Beautiful. Others who came close were
Mary Lou Retton
,
Mattie Larson
and
Cristina Bontas.
Part 2
will be a mixture of bars releases, bar and beam dismounts and leaps.