Part 3 of a 4 part series. You can read '
The State of China
'
here
and '
The State of the US
'
here.
Russia
, aside from
Aliya Mustafina
of course, had a pretty disappointing time in London last year and although they do have fabulous juniors in the pipeline they are clinging to their veterans facing into the new quad. So, after
Russian Nationals
and
Euros
with
Universiade
looming; where do they stand?
- First up is their main weapon,
Aliya Mustafina
.
Aliya
, the 2010 world champion, ACL comeback girl extraordinaire and the most medalled gymnast of the 2012 games continues to be the strongest gymnast they have as of now.
Aliya
has reworked her beam entirely with exciting new connections, it's definitely far from solid yet though it looked great at the
Zakharova Cup
. Even with a double tuck dismount she can reach 6.6 without the arabian and it can go higher if she upgrades when she needs to. That's the key to her longevity now- clever preservation; she has pulled out of all three floor event finals she qualified for so far this year, her choreography is still fairly underdeveloped and her bars are at a conservative 6.3- sans transition connections and her own dismount. What's clear is that she'll pull out all the stops when she needs to and not before. Underestimate at your peril, and try to avoid her ridiculously stalker fanbase!
Aliya
will almost certainly compete at
Universiade
, it will be most interesting to see how her beam has progressed.
-
Viktoria Komova
has not competed yet this year as she is out with a back injury. All is not lost, though she is not training at full intensity she apparently has nearly all of her skills back. She had less time coming back from injury leading up to both the 2011 worlds and the 2012 Olympics than she does now so remain optimistic that she'll come out all guns firing in time for worlds.
-
Anastasia Grishina
changed coaches last year after the
Alexander Alexandrov
shakeup. While she certainly hasn't hit every routine so far this year, her consistency record has gone way up, with beautifully hit beam routines in particular at
Cottbus
and
Euros.
This is in stark contrast to last year when it was practically impossible to find a routine where she did not meet the mat too early. What's perhaps most startling about her now is her confidence. This definitely isn't the same gymnast who balked about going up on beam last year in team finals and messed up a round-off shortly after. She looks very comfortable with her coach and her routines, even if she has hit the mat a few times. What's most important is to retain her consistency and add the difficulty back in gradually in time for worlds. It's almost sad that we are very unlikely to see her in AA finals this year if
Viktoria Komova
is healthy. But you just never know and winning AA and beam bronze is definitely a great boost to this beautiful gymnast.
Grishy. Copyright- Thomas Schreyer
-
Ksenia Afanasyeva
is a true veteran, with two Olympics under her belt. Not only is she continuing to train and competing as an all-around gymnast rather than dropping vault and bars but she is actually upgrading. As of now she has the second hardest floor routine yet competed this year, with significantly better execution than that of the most difficult. In a surprising twist as she is not known as a vaulter, she's training an amanar though she failed to land every single one she attempted at Euros in warmup. Word is her floor is not done yet and a video emerged of a full-twisting DLO. Another possible upgrade here could be a 3.5 twist as she finishes twisting very early in her triple full. It's rumoured that she will unleash a new floor routine later this year.
Afan
unfortunately does have an inconsistent streak and is unlikely to be able to surpass her teammates to compete AA, especially with a bars dismount that causes her endless trouble, but she is still a very important national team member as she is a major contender for the floor title this year and a strong contributor to team finals in the future. She will compete next at
Universiade
though she will drop bars for that competition.
-
Maria Paseka
, brought to London just to vault, has been busy getting her bars up to scratch. She competed well at
Russian Nationals
and her vaults looked better than they did last year, but unfortunately she finished dead last in the
Euros
vault final after crashing both vaults. Fortunately she managed to eke out a bronze on bars immediately after which will have gone some way to comfort her. If she can land her vaults this year then that's all she'll need to make her case for inclusion on the worlds team.
-
Anna Dementyeva, Ekaterina Kramarenko
and
Tatiana Nabieva
in particular are the main gymnasts also gunning for a spot at
Universiade
.
Anna
remains as lovely and inconsistent as ever but has a very good chance of performing at
Universiade
. It's very unlikely that she would be trusted to compete at worlds.
Ekaterina
competed at the 2007 worlds (notoriously so) and the 2008 Olympics. While she is past her prime she can still knock out strong routines.
Tatiana
no longer does her named release but scores well on bars and vault all the same. Neither of these three are in contention for worlds etc. anymore I don't think but all are capable of netting high scores.
- I don't believe that this is
Evgeniya Shelgunova
's year. She of the infamous sheep-Pak has reportedly had issues with her back, which could explain the failure to improve her form. She is quite an asset on beam and floor as she is usually rock solid though not exactly beautiful to watch but very unlikely to stand out as a medal threat on any event in
Antwerp
. I expect her to feature next year in team situations.
-
Alla Sosnitskaya
could be a nice surprise this quad. She's quite powerful with a DLO and triple full on floor but what makes her special is her turn combinations, which she is training but did not compete at
Russian Championships
. Although she had issues with her landings when we saw her last, including a fairly disastrous double pike she has shown herself to be much better that that. She's another who is more useful in team situations and would complement a UB/BB specialist very well.
-
Ekaterina Baturina
has absolutely beautiful gymnastics but definitely needs upgrades to contend. I'd like to see her contend especially on floor in the future. She turned senior next year and thankfully has an assignment coming up- the
Portugal World Cup
where she will compete alongside
Alla Sosnitskaya, Anna Rodionova
and
Anastasia Grishina
.
- It's hard to know what stage
Anna Rodionova
, a 2012 senior, is at. She injured herself last year on bars in the team final at
Stuttgart WC
and we haven't seen much of her since. A very beautiful gymnast though unlikely to knock out huge difficulty I would think.
- There are 4 juniors who have quite a bit of hype being generated around them-
Maria Kharenkova, Maria Bondareva, Anastasia Dmitrieva
and
Viktoria Kuzmina
. The first and last are 2014 seniors and the other two are 2015. Of these the best all-arounders for the future are
Anastasia
and
Maria Bondareva
.
Maria Kharenkova
should be well up there, her bars are currently not up to the standard of the others and she's just slightly sloppier in form but exciting to watch, especially on her pet pieces of beam and floor. She looks like she could crank out a DTY sometime soon too.
Viktoria
is stunning to watch on bars and beam and has a 6.1 d-score on the former. She appears to have fallen on bars at her last meet, a friendly, but even so.Sadly, videos have not emerged from this meet. A bars/beam specialist to complement one or two of the others I think. She does not even have an FTY yet and while her floor is lovely the difficulty is beyond low, and comparable to the routine of the ridiculously adorable
Varvara Zubova
who is four years her junior. She did however place second in the AA in her category at
Russian Junior Championships
behind
Maria Bondareva
and placed first on bars and second on beam. The results of the friendly recently were interesting-
Maria Bondareva
came out on top again, but her scores were lower than
Anastasia's
with the sole exception of bars, and I believe
Anastasia
can definitely catch up there.
Maria
lived up to her reputation by adding golds on floor and beam to her AA first place at Junior Champs, while
Anastasia
received silver on beam and second on vault.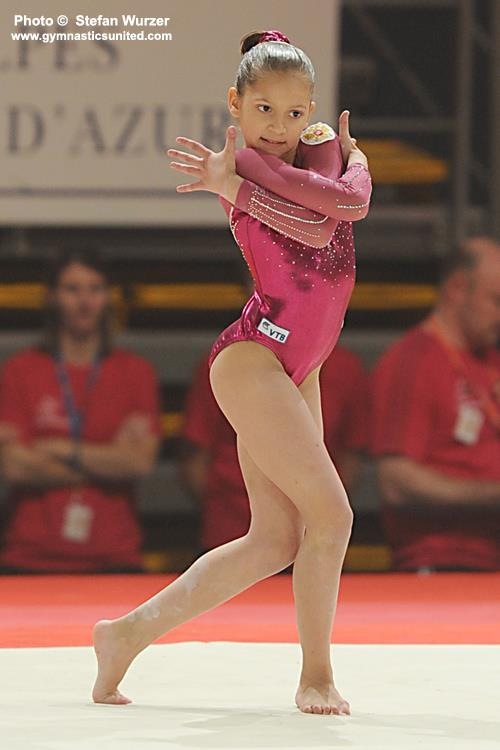 Kuzmina. Copyright- Stefan Wurzer
- You won't hear too much about
Seda Tutkhalyan
and
Yevgeniya Zhukova
but they could definitely be game changers.
Seda
in particular is of a much stockier and compact build than her fellow pixies and is consequently more powerful. Thankfully, she can point her toes too! She won the all-around in her category at
Russian Junior Championships
, and also won bars and vault, along with bronze on floor.
Yevgeniya
also looks like she could be a little powerhouse, she won vault in her category and was third on floor and beam, with a 4th place on bars too. She really came out of nowhere this year, vastly improved.
While talented juniors are definitely in the ranks,
Russia
are wisely holding on to their Olympic team, all five of whom are actively training and competing. This year their new seniors will not be a massive help, though I'd expect
Evgeniya Shelgunova
in particular to be an asset next year for team competitions. For the AA they have
Aliya Mustafina
, hopefully
Viktoria Komova
,
Anastasia Grishina
and probably
Ksenia Afanasyeva
too. Bars remain strong as ever, and even if
Komova
cannot do AA she can surely do bars. The strongest routines unsurprisingly belong to her and
Aliya
who are essentially guaranteed to be in the bars final at worlds if they are healthy and do not monumentally screw up.
Anastasia Grishina
is also very strong on bars and
Maria Paseka
has made great strides of improvement there too. Looking to the future,
Maria Bondareva
and
Viktoria Kuzmina
are glorious on bars, and some other juniors look promising also.
Floor belongs to
Ksenia Afanasyeva
who can hopefully stay consistent with her routine this year at worlds.
Aliya
is probably still their second best floor, and then a healthy
Komova
and an upgraded
Grishina
are very valuable too. I'd expect
Bondareva, Kharenkova, Tutkhalyan
and
Zhukova
to contribute high scores here also. Vault-wise they should have two amanars, and
Afan
is definitely training one.
Aliya
's DTY is rock solid and if she can at all clean up her legs in the second twist then it could outscore a Pasekamanar.
Paseka
is still quite an asset for vault alone, they don't have a huge number of vault specialists climbing the ranks just yet. Beam remains an issue though their use of new connections particularly in the case of
Aliya
and
Afan
is very heartening, despite numerous wobbles and falls plaguing this pair on this event.
Komova
also should boast a difficult routine in time, and
Grishina
hopefully can execute a more difficult routine while staying on the beam.
Kuzmina, Kharenkova
and
Bondareva
in particular stand out as ones to watch here.
The worlds team will most likely be some combination of the Olympic team. Who to leave at home though? If healthy then
Aliya Mustafina
and
Ksenia Afanasyeva
are locks. A fully restored
Viktoria Komova
would be too. Unfortunately for
Anastasia Grishina
, she's unlikely to take the fourth spot as she's not a medal threat without quite a few upgrades, and would be bumped out of AA and UB finals by her teammates unless by fluke. I would say
Maria Paseka
will take it.
Aliya Mustafina-
AA, UB, (BB and FX attempts)
Viktoria Komova-
AA, UB, BB
Ksenia Afanasyeva-
FX, (BB attempt)
Maria Paseka-
VT
Quite a strong team. Who do you think will be featuring on the horizon coming up to Rio? Favourite juniors? Can Grishina continue to stay on the beam and get her big chance soon?
Some video highlights after the jump..
This was coded to a 6.6 full potential, ie. with the aerial-wolf jump actually connected. Impressive seeing as the arabian does not feature. If she adds the arabian to this exact routine then it goes to 6.8 and if she chucks a Patterson too then it's a 7.1. These connections are awesome and it would be great if she could perform them like this all the time in future..
A coding video, but it was the only one that would embed. This could be the last showing of this choreo, which is still amazing even though it's wasn't as extensive as it was in London.
That second spin, swoon!
Anything that wouldn't embed got short shrift with me. I highly recommend watching
Anastasia Grishina
's beam from
Cottbus
and videos of the juniors from
Massilia
and
Gymnix
.