I love when there's so much gymnastics going on that it's tough to keep up with everything. Jesolo EF videos are not up yet (
Edit
- They are now) and I'm missing some routines like
Mariya Livchikova
's beam which would surely be a highlight but I think I have enough to go on. Here's my thoughts on the highlights of this weekend's gymnastics feast.
Simone Biles' performance
Simone
definitely made her mark as a junior last year when she won the
Secret Classic
and placed third as
US Nationals
and her explosive amanar and sky-high double layout attracted widespread attention. But I don't think anyone could have predicted the vast improvement she has made, not just on her pet events- but as an all-arounder, and America's most valuable one right now at that. Her new double-double on floor is done with such ease that a triple twisting version looks like a matter of when, not if. As it is she always has power left over landing that pass and it's SO high. Not content with the very dynamic 1.5 twist into double pike she debuted at
American Cup
,
Simone
busted out a full-in tuck in place of the double pike this weekend. Her last pass also looks like it could be upgraded to a triple and her routine is not making the most of the code, she needs more CV from leaps and/or punchfronts as she only amasses 6.2 from her incredible floorwork. The amanar is even better than last year, and she has stuck two so far that we know- one in warm-up at
American Cup
and the other yesterday. Again, the TTY is only a matter of time as we know for a fact she is training it.
After a dissapointing beam at
American Cup
where she fell on the new layout pass she had nailed in training,
Simone
was much more confident at
Jesolo
with it. Thankfully she has ditched the terrible tour-jete leap too. Extremely powerful in her full in tuck dismount, yet another upgrade...and that could quite easily become a pike. Of anyone who has done a wolf turn with more than one rotation- hers is the best. She still flails her arms a bit like all the rest but she gets it around so fast that it manages to look great instead of a giant wobblefest. Bars really is the most surprising of all, with new releases including a great piked Tkachev straight into Pak. Her dismount is so high above the bar that it needs to become a
Fabrichnova.
All in all
Simone
is the most valuable all-arounder
USA
has, most valuable vaulter and probably most valuable floor worker-
Lexie
's potential routine has 0.5 more difficulty but it will lose some of the difference in execution and it's not likely that
Simone
's d-score is final for this year. It's really hard not to say we have found the 2013 World AA, FX and VT champion. And it IS ridiculous to say that, because it's still more than six months away and you never know what will happen in this unpredictable and injury-prone sport. Enthralled as I am with
Simone
's enormous improvement and potential, I am not blind to her faults. Her backhandsprings on beam could do with being a lot tighter in form, she flexes her feet on bars transitions and some releases, her foot form on vault could do with being tighter too and she's not going to win any rewards for her dance on floor..particularly the parts where she practically stops dead. But it doesn't change the fact that she is exceptional. The new
Jesolo
AA, FX, VT and BB champion is on a roll.
Anastasia Grishina's redemption
Copyright- RGF, Russian Gymnastics Federation
Anastasia
hit a beam routine with absolutely NO wobbles. Not on the layout, not on her beautiful but incredibly troublesome Onodi-illusion. She gives us all hope that with her coaching change, more relaxed and confident demeanour and shiny new beam and bars titles at
Cottbus
that she will finally fulfil her massive potential. Check out the close-up of her feet on the perfect Onodi-illusion. Glorious. Her floor still needs attention and I'm not sure she will ever hit a perfect floor routine as long as the double double remains to exhaust her..but, baby steps. She has not fallen off beam yet so far this year, and that alone is incredible.
Bailie Key's domination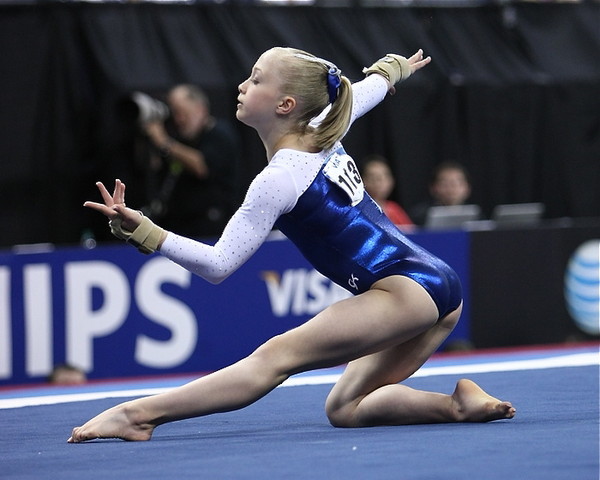 Copyright- USAG USA Gymnasti

cs
Bailie
, a 2015 senior, not only won the junior AA at
Jesolo
by three points, she also the VT, FX and BB titles already having qualified first into each. Something happened on bars where she 'only' got third, but the winner-
Enus Mariani
- is incredibly similar to
Bailie
on this event. This from a girl who is capable of far more than what she showed and who wasn't even the top ranked Junior in
USA
when she landed in Italy. Coach
Kim Zmeskal
has practically wrapped her in cotton wool in her preservation attempts. Long may it continue, with almost two full years until she (hopefully) explodes onto the senior stage. A great boost for this tiny young one.
Gabby Jupp's continued steadiness
Gabby
was not sorely tested as big rival
Rebecca Tunney
is out with an unspecified injury. However, she still had to beat veteran
Hannah Whelan
who has years of experience compared to her
and has high difficulty. But it was a breeze for
Gabby
, as
Hannah
counted numerous falls throughout the weekend while trying out new bars skills. Say hello to the new British AA, beam and floor champion and bars silver medallist. If she can possibly get a DTY in time for Euros she would be a legitimate threat, but that's optimistic to the point of foolishness. As it is, hopefully she can break out into podiums this quad. This is a great start to her senior debut, she impressed everyone with her steadiness and confidence at
American Cup
and has continued the trend on home soil.
Routines-
Floor. 1.
Simone Biles, Jesolo TF/AA
2.
Enus Mariani, Jesolo TF/AA
3.
Mariya Livchikova, French Nationals (??)
Beam. 1.
Anastasia Grishina, Cottbus EF
2.
Gabby Jupp, British Championships EF
3.
Elisabetta Preziosa, Cottbus quals
Vault. 1.
Simone Biles, VT 1 Jesolo AA/TF
2.
Oksana Chusovitina, VT 2 Cottbus quals
3.
Maegan Chant, VT 2 Cottbus quals
Bars. 1.
Becky Downie, British Championships quals
2.
Enus Mariani, Jesolo TF/AA
3.
Brenna Dowell, Jesolo TF/AA (most improved!)
Skill/composition highlights-
Kyla Ross
' backhandsprings on beam look even better now she's grown.
Enus Mariani
's floor choreography is beyond wonderful.
Peyton Ernst
's sheep jump was stunning, and surprising given the weakness of the rest of her leaps.
Mariya Livchikova
's Memmel was out of this world (and her double front and tuck), as was
Anastasia Grishina's
Onodi. The height of
Brenna Dowell
's front double pike was crazy, and the ease of it. I am still in love with
Simone Biles
toe-rises and
Gabby Jupp
's BHS-LOSO-LOSO. Spectacular to see such clean vaulting from
Oksana Chusovitina
and I'm really impressed with
Maegan Chant
's form on hers too, and she can obviously upgrade.
Great week for- Simone Biles
- AA, TF, FX, BB and VT champion.
Bailie Key
- AA, FX, VT and BB champion, and bronze medallist on bars.
Anastasia Grishina
, flake extraordinaire- UB and BB champion.
Gabby Jupp
, AA, FX and BB champion, and silver medallist on UB.
Good week for- Maggie Nichols
and
Peyton Ernst
. International competitive debut and although they both fell off beam they both showed some really nice work and coped well. Onwards and upwards.
Brenna Dowell
who snatched a medal on bars with a surprisingly strong and much improved routine. She's known as an extremely hard worker and it's good to see someone achieve a medal on a weak event through hard graft.
Enus Mariani
would not have won the AA even if she hadn't fallen, but she did well to take AA silver, bars gold and floor silver.
Bad week for- Vanessa Ferrari
who was doing very well until her new upgrade on beam, the tuck full. Vanessa's injury is not thought to be much more than a sprain but it's not known yet if it will impact her inclusion in Euros and other competitions. Such bad luck for this tough veteran.
Mai Murakami
who had a disaster on 3/4 events. So gutted. She did show some lovely beam work and her quad spin on floor was great. But she lost it everywhere else and although
Japan
are not deep, they don't have to put her on major teams..
Lexie Priessman
and
Amelia Hundley
who both performed similarly. Not just messy but sluggish too.
Lexie
came to grief on beam, with errors elsewhere and
Amelia
had some seriously dodgy landings on floor today. Hopefully they are not going to be resigned to the broken pile just yet.
Lexie
at least is recovering from an injury, but I don't know what the story is with
Amelia
- more growth maybe. Also
Kyla Ross
who has just had her irrelevancy if she doesn't upgrade thrown in her face. I get that she has lost training time and given her growth spurt, significant upgrades in that timeframe would have been tough but they'll have to do something with her routines if she wants to make a major team, especially if she expects to do AA.
Huang Huidan
's disaster at
Cottbus
took her out of contention so early that I forgot all about it in the wake of so much gymnastics. Thanks
Annie
for reminding me, though it's sad to remember. It is the first competition of the season but she doesn't have any kind of track record for consistency. This won't convince anyone that she's any more reliable than
Wu Liufang
and she could well be left high and dry when major international teams are being chosen. Such a shame she lost it completely as her routines are so beautiful.
Best leotard-
Can't choose between
Japan
's two podium training leos and
Italy A
's team leo. I also liked
Becky Downie
EF.
Worst leotard-
USA TF. I'm sick of this nauseating colour and not even the pattern redeems it, one of the worst hot pink ones which is very low to sink.
I can't seem to embed anything
Jesolo, Cottbus
or
British Championships
..yet anyway, it's either a delay on recent videos or an embed block. So I will link uploaders instead. The excellent
Gympower
has a ton of yesterday's
Jesolo
videos and will be uploading event finals there too.
Gifwatermark
has some of the missed ones, and a different angle on repeated routines.
Ninalfee
has routines from French Nationals, including
Mariya Livchikova's
floor.
Javier Collados
has everything
Cottbus, Xoxociara
has some
Jesolo
EF routines
and
BGTV
have all of the
British Championships
routines. I'm sure people have seen videos around the place, but it's handy to collect uploaders in one place here for convenience.
Who and what did you enjoy most?