The problem with the majority of these is either that they are now illegal in the code of points or the fact that they end in a dead hang and/or require empty swings which incurs an 0.1 automatic deduction, which means they are unlikely to be done again, especially as they are so difficult in the first place. I would love to see Viktoria Komova, Yao Jinnan and Beth Tweddle have a go at them though.
The legendary Olga Korbut performing the famous Korbut flip at the 1972 Olympics. Korbut also had creatives moves elsewhere but judges did not appreciate her 'circus tricks' and she never cored as highly as she should have.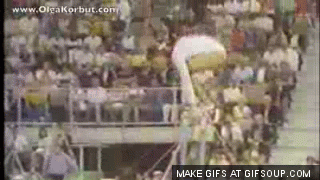 Elena Mukhina adds a full twist to the Korbut flip. Mukhina was a true all-arounder and swept the 1978 Worlds. She was a shoe-in for the 1980 Olympics but was paralysed a few weeks before due to her over-ambitious coaches insisting on a dangerous roll-out move, which she landed on her neck in training. These moves have since been banned for women but are still fine for men to perform.
Mo Huilan competes a Gaylord, a tucked salto over the bar. This was also competed by Bi Wenjing and Meng Fei. What's almost as amazing as the release is the flight Mo gets on her transitions. The Chinese today are famed for their dead-hang transitions and laboured kips, Mo however shows them how it's done.
Zhou Duan performs an unheard-of Gaylord II, which does not bear her name. This is a front tuck with a half twist to regrasp the bar, and is pretty similar to a Kovacs that the men perform. Just as above, it requires empty swings and a dead hang, both verboten. Zhou was also a beast on vault, difficult floor and a really difficult beam which appears to include a barani. She took bronze on vault at worlds but form issues and falls kept her from taking centre stage.
Kim Gwang Suk competes a counter-Kim, also known as a Marinich. I'm not too sure how to define it but the motion of it is where the difficulty lies. This routine is always overshadowed by the age falsification scandal. Kim was no more than 12 here. Her age, the release AND the fact that it was done in combination in a routine which also features other releases is incredible. Bent knees aside, that was an issue she could have fixed had she been allowed to keep competing. This has never been performed in competition since, but footage has surfaced of an unknown high-school girl competing it from a more difficult toe-on position. There are other, such as Nabieva's layout over the bar and the Church, but these are the ones I love the most.